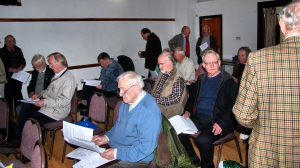 The AGM was held on 6th May in Beddgelert.
The Chairman reported on  the excellent progress made with restoring the building at Tryfan Junction, the opening of the Bryngwyn footpath and the recreation of the Beddgelert Lamp Room.
Completion of the Beddgelert Water Tank and the Cambrian Crossing Box projects are dependent on external factors which the committee arre working to resolve.
"Wheeller's Day" was published during the year and has sold remarkably well  with reprints being ordered. The DVD "Welsh  Highland Story" is also selling well.  The website has been revamped and membership is growing.
The Treasurer reported a surplus over the year, most of which is to be allocated to completion of the Tryfan Junction project.
Two booklets for publication are ready in draft form, on the subjects of the Bryngwyn Branch and Electric Locos for the PBSSR.
More than half of the back issues of the journal have sold out and it is planned to put past issues on line to make them more accessible.
Elections: David Allan and Derek Lystor were re-elected to the committee.