Description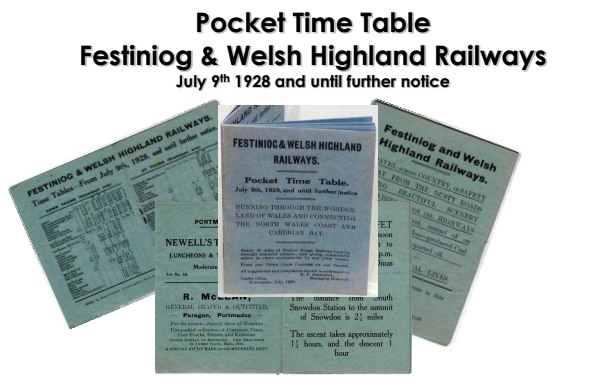 New!
After the initial euphoria implicit in the first timetables had worn off, the Welsh Highland Railway went through the trauma of poor loadings leading to continuing attempts to contain the costs of operation by adjusting the timetable, to such a degree that it can be difficult to grasp just what level of service was applying at any given time.
The recognised histories tend to skate a little warily over service details, with even some contradictory statements in places. However, thanks to a recent auction purchase by the WHR Heritage Group of a timetable of the period, we can now offer an insight into the summer of 1928 with twenty eight pages that not only illustrate the paucity of the Welsh Highland Railway's summer services in June 1928 but also through the many advertisements, the wide spectrum of Porthmadog's business, retail and commercial activities at the time and that supported the growing market for tourism. Details also of the relatively busy Festiniog Railway and the mainline connections for both railways.
The price includes UK postage; customers outside the UK should email Adrian Gray adriangray1955@gmail.com to establish overseas postage.
£3.50, post paid in UK