Description
Reprinted with revisions – available Now
An Illustrated Historical Guide to the Welsh Highland Railway
– Part Two –
Rhyd Ddu to Porthmadog
Compiled by John Keylock
'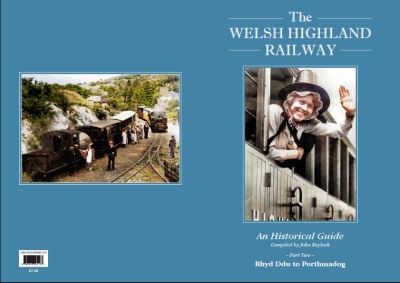 The Welsh Highland Railway – An Historical Guide – Rhyd Ddu to Porthmadog' has been out of stock for sometime. However, in reprinting Part Two, the Welsh Highland Railway Heritage Group has taken the opportunity to revise and update the original text and the front and back covers have been refreshed with colourised photographs.
Between the two volumes, Parts One and Two, the Historical Guides describe the old WHR line from an historical perspective for today's traveller. The books, each of some 32 pages in soft covers are brilliantly illustrated with many old photographs identifying features that can be observed along the line from the train.
Originally written by Welsh Highland expert the late John Keylock, both books are invaluable companions to the enthusiast, historian or traveller alike. Both include an easy-to-follow, double-page map, drawn by Lewis Esposito, covering the route described in each book, Part One covering the route from Caernarfon to Rhyd Ddu.
The book is available for £7.00 – thus for a mere £14 (Parts One & Two) you can have an end to end historical guide to the WHR.
It comprises approximately 32 pages including soft covers and is well illustrated with a map and many photographs.
32 pages, soft cover, A4  ISBN 978-0-9930821-5-3
£7.00   post free The price includes UK postage
(Customers outside the UK should email sales dept: adrian.gray@welshhighlandheritage.co.uk to establish overseas postage).
Back in stock!