Welsh Highland Centenary Celebrations
Tickets on Sale now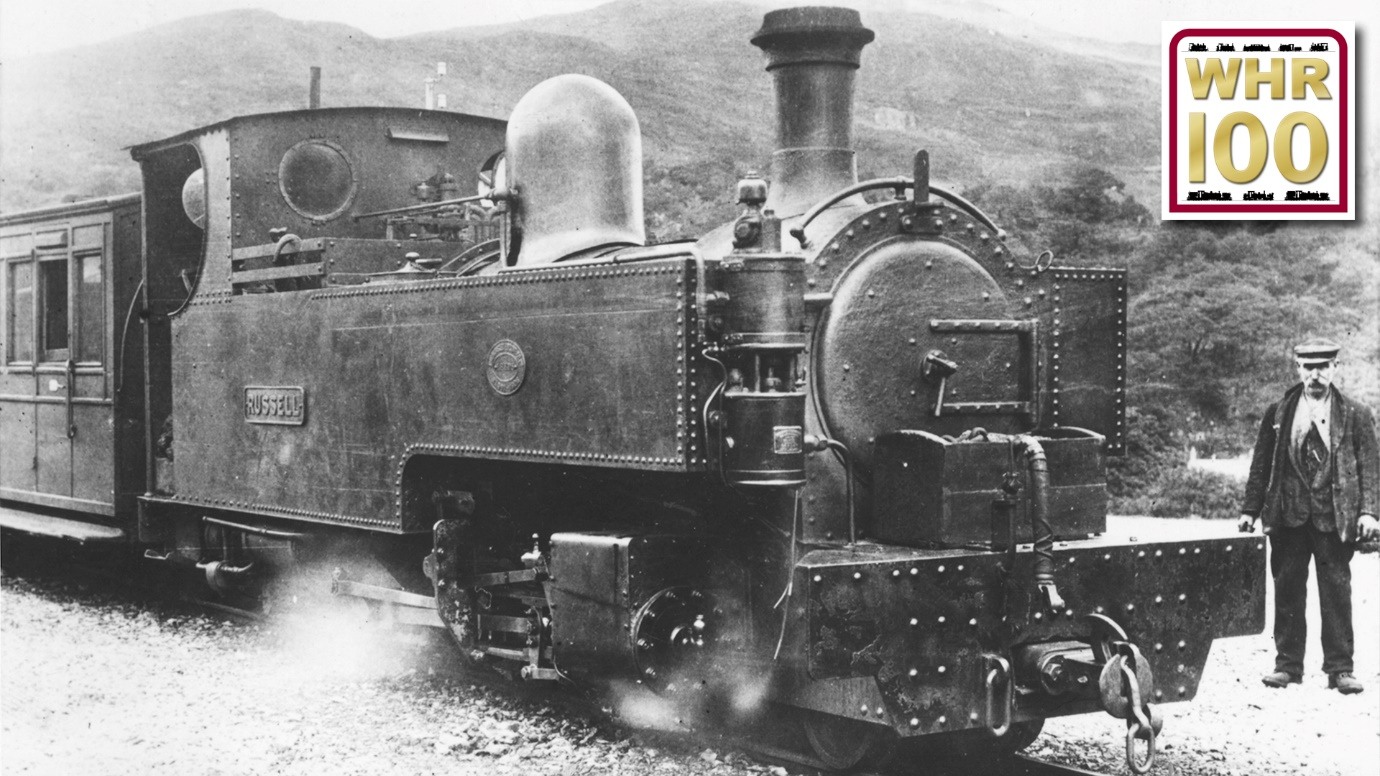 Tickets for the highly anticipated Welsh Highland Railway Centenary event weekend at Dinas go on sale at 10:00 on Friday, 8th of July 2022.
Tickets can be purchased online via the Festrail website; www.festrail.co.uk/events or by calling Porthmadog Harbour Station Booking Office on 01766 516024
The Booking Office will be open daily between 09:00 – 16:00, in this period walk-ups can also purchase tickets.
Our event weekend will be primarily centred at Dinas where we will be operating a selection of heritage trains between Dinas and Rhyd Ddu (as South Snowdon is now known) to celebrate the reopening of this section of line.
Day Rover tickets will be priced at £60 for an Adult and £30 for a Child.
Day Rover tickets will cover;
– Travel on Shuttle trains or bus between Caernarfon – Dinas
– Travel on Heritage trains hauled by 'Russell' and 'Palmerston' between Dinas – Rhyd Ddu
– Travel on a 'White Way' bus between Dinas – Rhyd Ddu
– Entry into Dinas Station site
– Discount of 20% on the Welsh Highland Heritage Railway (WHHR) at Porthmadog on the same weekend.
There will be a 20% discount for current Ffestiniog Railway Society (FRS), Cymdeithas Rheiffordd Eryri (CRhE), Welsh Highland Railway Heritage Group (WHRHG) and Welsh Highland Heritage Railway (WHHR) members and Ffestiniog and Welsh Highland Railways (Ff&WHR) staff.
Please note; Ff&WHR Staff, WHHR Members and WHRHG Members must call the Booking Office in order to apply the discount to their booking.
FRS and CRhE Members can apply their discount to their booking online.
Please note; if any discounts have been applied, you must bring your current membership card or pass with you on the day to show as proof when checking in.
All other discounts will be suspended for this event weekend.
Pre-booked tickets will be posted out up until Monday 25th of July 2022.
If tickets are purchased after Monday, 25th of July 2022, they must be collected from Dinas Station on the day.
Both Porthmadog and Caernarfon Booking Offices will be able to provide a booking receipt with all details, which can be used to travel to Dinas, where you can then collect your ticket.
Dinas Station
During the event weekend, Dinas Station will be open between 08:45 – 16:30
There will be plenty to keep visitors occupied with a Catering Van, a Real Ale Bar, Footplate Rides, Model Layouts, Photo Exhibitions and a pre-1939 Vintage Car display.
General site entry to Dinas Station will be priced at £5 for an Adult with free entry for children and will only be sold on the day at the gate.
Please note; there is disabled parking and a limited amount of public parking at Dinas Station, therefore we are encouraging visitors to make use of the shuttle trains from Caernarfon where there are several car parks or alternatively the limited public bus service to Dinas.
Please do not leave dogs unattended in vehicles.
Heritage trains hauled by 'Russell' and 'Palmerston'
We are pleased to confirm that the only surviving original Welsh Highland Railway steam locomotive, 'Russell', based at the Welsh Highland Heritage Railway at Porthmadog, will be running on the Welsh Highland Railway during the event.
It is planned that 'Russell' will work a series of heritage trains between Dinas and Rhyd Ddu – a preservation first and 100 years after the first original Welsh Highland Railway trains ran over this section.
We would like to make this event as enjoyable as possible with as few restrictions as we can but in return we must ask that people respect capacity space as much as possible and make the most of the different services so that everyone can enjoy a chance to travel behind 'Russell'.
'White Way' Bus
During the event weekend, we will also have a former 'White Way' bus departing from Dinas and transporting Day Rover ticket holders to three sites ahead of the trains; Plas y Nant, Rhyd Ddu and Waunfawr, allowing for photo opportunities.
Day Rover ticket holders can travel on this bus without extra charge.
The bus will have a maximum capacity of 25 passengers and admission will be on a first come/first served basis.
Saturday Evening Photo Charter
There will be a 'Russell' hauled photo charter train on the evening of Saturday, 30th of July 2022, travelling between Dinas – Waunfawr with photo opportunities at both Tryfan Junction and Waunfawr.
Day Rover ticket holders for either Saturday or Sunday, may purchase an additional ticket for travel on this photo charter train, priced at £20 per person.
These tickets are limited, with only 50 available, and must be pre-booked by calling the Harbour Station Booking Office; 01766 516024
This train will depart Dinas Station at 17:30 and arrive back at 19:35
Passengers must be mobile, wear sensible shoes, bring waterproof coats in case of wet weather and no alcohol should be consumed beforehand, as there will be supervised access to the old signal box site at Tryfan Junction to facilitate photography of run pasts.
Please note; we encourage only those with a valid charter ticket to attend this evening photography session at Tryfan Junction.
Activities at the Welsh Highland Heritage Railway (WHHR) Porthmadog
There will also be complementary activities at Porthmadog on the WHHR over the weekend.
These will include operation of an intensive steam service with 'Gelert' and a recreation of a construction train hauled by what is believed to be the only surviving internal combustion locomotive used in the building of the original Welsh Highland Railway.
More details will be available on the WHHR Facebook www.facebook.com/WHHRly and website www.whr.co.uk pages.
Day tickets will be available for purchase in person at the time of visiting, at the WHHR ticket office and shop on Tremadog Road.
The prices for each day are set at Family £37.50, Adult £14.50 and Child £7.00, but Dinas Day Rover holders, FRS, CRhE, WHRHG and WHHR members and Ff&WHR staff will be welcome to travel at normal prices (Family £30.00, Adult £11.50 and Child £5.50) on presentation of their Day Rover ticket, valid membership card or staff pass.
We look forward to welcoming you all to what will be a hugely enjoyable and historic event for the Welsh Highland Railway.