The website of the Welsh Highland Railway Heritage Group
The Welsh Highland Railway Heritage Group was founded in 1997. Its purpose is to foster the heritage aspects of the Welsh Highland Railway and its predecessors.  It participates in heritage events on the railway, helps maintain heritage structures and records, and researches the history of the line.
This website records much of the work which has been undertaken along the line together with some of its history, and the Journal records the fruits of research by its members.
---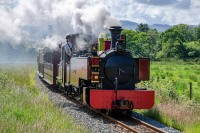 Russell returns! Over the weekend of 30th/31st July 2022, the historic locomotive 'Russell' will work a series of heritage trains between Dinas and Rhyd Ddu – a preservation first and 100 years after the first original Welsh Highland Railway trains ran over this section.
For full details click here
---
The Centenary Research Competition

As part of the WHR Centenary celebrations, a prize competition has been announced by the sponsoring organisations for research articles relating to the history of the railway.
Full details are to be found here: Centenary Research Competition
---
The creation of the Welsh Highland Railway fulfilled an 1870s vision of linking the Bays of Caernarfon and Cardigan, via Beddgelert, with a narrow gauge railway.
Its history is a blend of contradictions and complex compromises:
It had been planned that its terminus would be Caernarfon, but that never happened.
It was to have been powered by electric traction, but that didn't happen either.
It should have been completed in the first decade of the twentieth century and that too went awry.
It finally opened as a through route in 1923, running for just fourteen difficult years, before closing – seemingly for ever in 1937………..!
But 60 years later it began a new existence under the aegis of the Ffestiniog Railway Company and the entire length of the line has now been reconstructed with steam trains operating once again.
---
Join us now!
Join the Group now and support our activities (or even just make a donation).
Members receive a free copy of the quarterly journal Welsh Highland Heritage.
For further details please click here
---
Featured photo: "Journey into the Past 2019"  by David Firth
---